Double click

Our sale policy - We require a non-refundable 50% deposit in Cash or Postal Service Money Orders to hold a yak. Once received, a deposit locks in the yak price and the yak for the buyer. November through January that holding deposit is 75% due to the National Western Stock Show higher demand for yaks and holiday vet/lab scheduling issues.
We will quote you a price for the yak but that price does not include vet fees which are subject to specific State of Destination regulations which vary and are subject to change. We will research those vet fees and they are added on to the price of the yak as part of the sale.
Should you ask us to hold a yak for pickup beyond 4 weeks, we require payment of feed and boarding costs for the additional holding time.
Final payment must be in Cash or Postal Service Money Orders. Final payment is due before yak loading at pickup. We price our yaks at a fair price and can do so by not inflating yak pricing to cover unexpected vet fee increases. (Our prices are subject to change and vary between individual yaks.)
Call us at 303-582-5052 or use our contact page to get pricing on individual yaks.
Note: Current vet costs for late 2014 per yak for our location are averaging in the $350 to $500 range depending on age and sex.
Questions & Answers
Why do you require a Postal Service Money Order Deposit or Cash rather than a Personal Check?
It can take up to 14 business days for a personal check to completely clear in the US banking system. A Postal Service Money Order is secure funds and equivalent to a Cash deposit. It allows us to tell other buyers the yak is officially under contract once that deposit is received. We can begin vet scheduling for tests and paperwork required for the destination state so that the buyer can pick up the yak within a month or less from the date we receive the deposit.
Why don't you add the vet costs into the price of the yak like other breeders?
We want you to know what you are actually paying for and the vet costs vary based on the age, sex, and destination state the yak is being transported to. Vet fees are subject to change and we have no control over what the vet charges for trip fees, destination state required tests or health certificates for transport. Rather than estimating what the vet expenses might be and adding them into the price of the yak, we have found the price is often better for the buyer if we separate the vet fees from the yak price.
Why don't you post your yak pricing on the website?
Each yak is an individual with its own specific qualities and level of training. Yaks are a commodity and pricing fluctuates with yaks. The longer we have a yak that is for sale, the more feed, care and other expenses we have associated with that yak so we must adjust our pricing to reflect this. We are in the business of selling yaks and our responsibility is to supply all that is necessary to maintain the health of our yaks. (Some yak owners find they must "fire sale" yaks at a loss when they are unable to afford to feed them. Long before that those yaks have probably had reduced feed as the owner has struggled to continue operating. The yaks from these type of "fire sale"s may be less expensive at purchase but their health may also be compromised and restoring them to full health could be an additional expense for the new owner.)
Why are only some or your yaks for sale?
We are a small ranch and so we cannot keep every yak that we have purchased or that is born on our ranch. All the yaks on our ranch have high quality genetics we've chosen from the very top yak lines in conformation and fiber. Our goal has been to diversify and improve the quality and genetics of our yaks and to have a herd of yaks born on our ranch rather than just owning yaks born on other ranches.
Since yaks were originally introduced into the US, a significant amount of line breeding has occurred for specific traits and appearance. We want to move away from the intense line breeding that has been done by other breeders while maintaining the benefits that have been gained and simultaneously reducing unintended faults or defects. To do this, we must sell some yaks that are too closely related for breeding. At times it is a tough choice to choose to sell a yak because they become part of our family and we know each individual yak so well. However, this does provide a buyer an opportunity to acquire a top quality yak that otherwise they might not have had the opportunity to own and because our yaks have so much daily contact, they are friendly and easy to work with once you gain their trust.
Are all your yaks for sale halter or pack trained?
The first yaks we purchased from other breeders had different levels of handling. Some were never halter trained. Others, the breeders had on a halter or collar just long enough to get them to tolerate being tied for long periods at the stock show. Tolerating tying is not true halter training but it facilitates yak sales. Yaks born on our ranch, once weaned, are trained on halter and to lead. There is a significant time commitment involved with halter training and getting a yak to lead easily. Our starting point is with imprinting at birth and daily increasing trust before we begin the halter and lead work. Each yak has its own personality and not every yak is suited for halter and pack.
Do you ever deliver yaks that have been purchased from your ranch?
In the past, we have will delivered yaks locally to a buyer's destination when the buyer has no suitable trailer for transport. We advise checking with us if you don't have a suitable trailer for transport to determine if your property is within our local delivery area.
If you are located beyond our local delivery area or in another State, we have a few connections with transporters that may be able to assist you.
If you have your owns means of transportation (a suitable horse trailer for younger yaks or a stock trailer for more mature yaks) this will be your least expensive method of transport. If not, you may be able to rent or borrow a suitable trailer for transporting. Just remember, when determining which trailer to bring, that the yak's horn spread can be too wide, in some cases, to fit through a regular horse trailer door opening. It is best to determine if the horns will fit through the trailer door before making the trip to pick up the yak.
IYAK Registered & Unregistered Foundation Herd Yak Bulls & Bull Calves for Sale
Summer Yak Bull Sale 2023- lowest pricing available now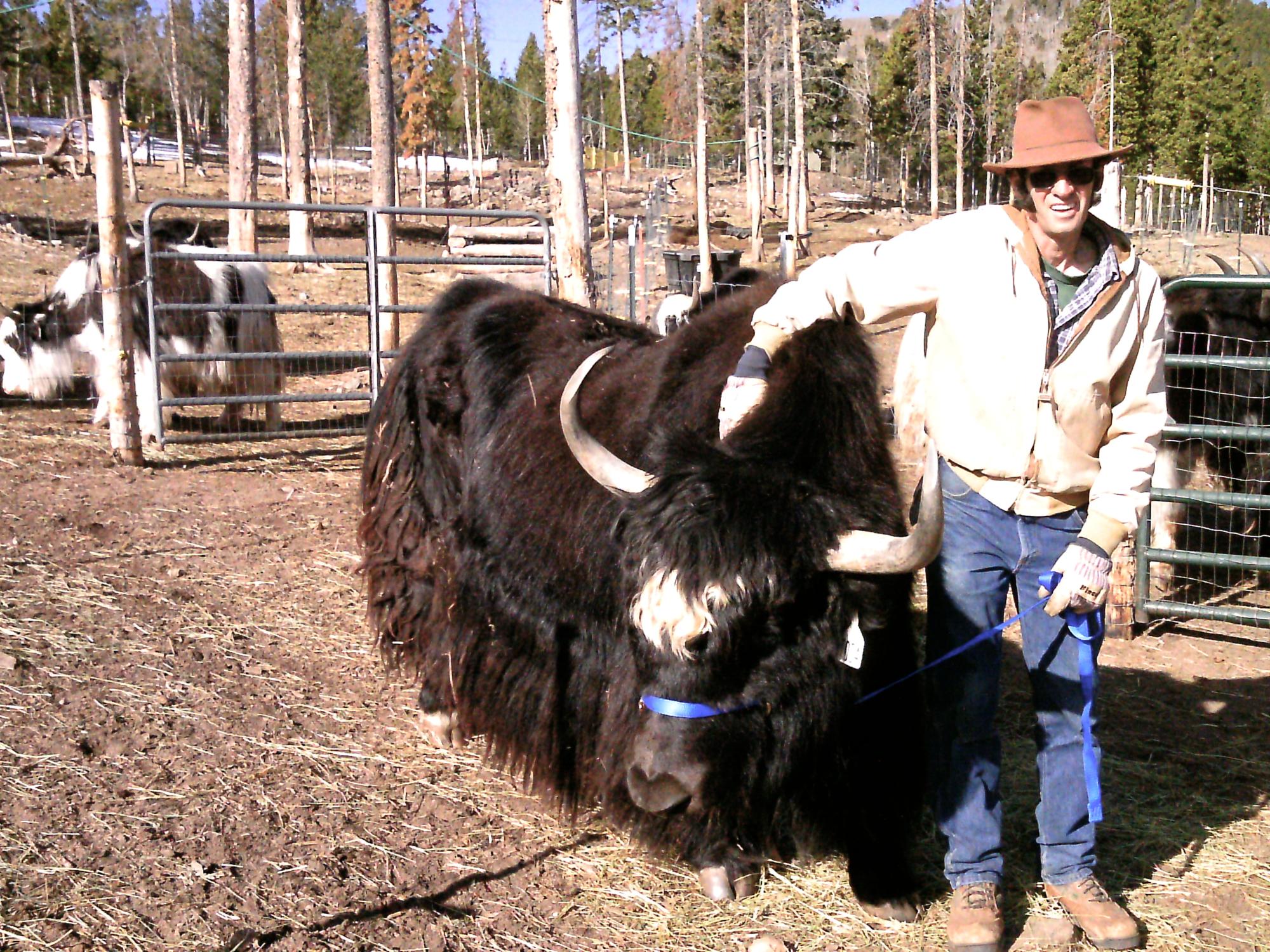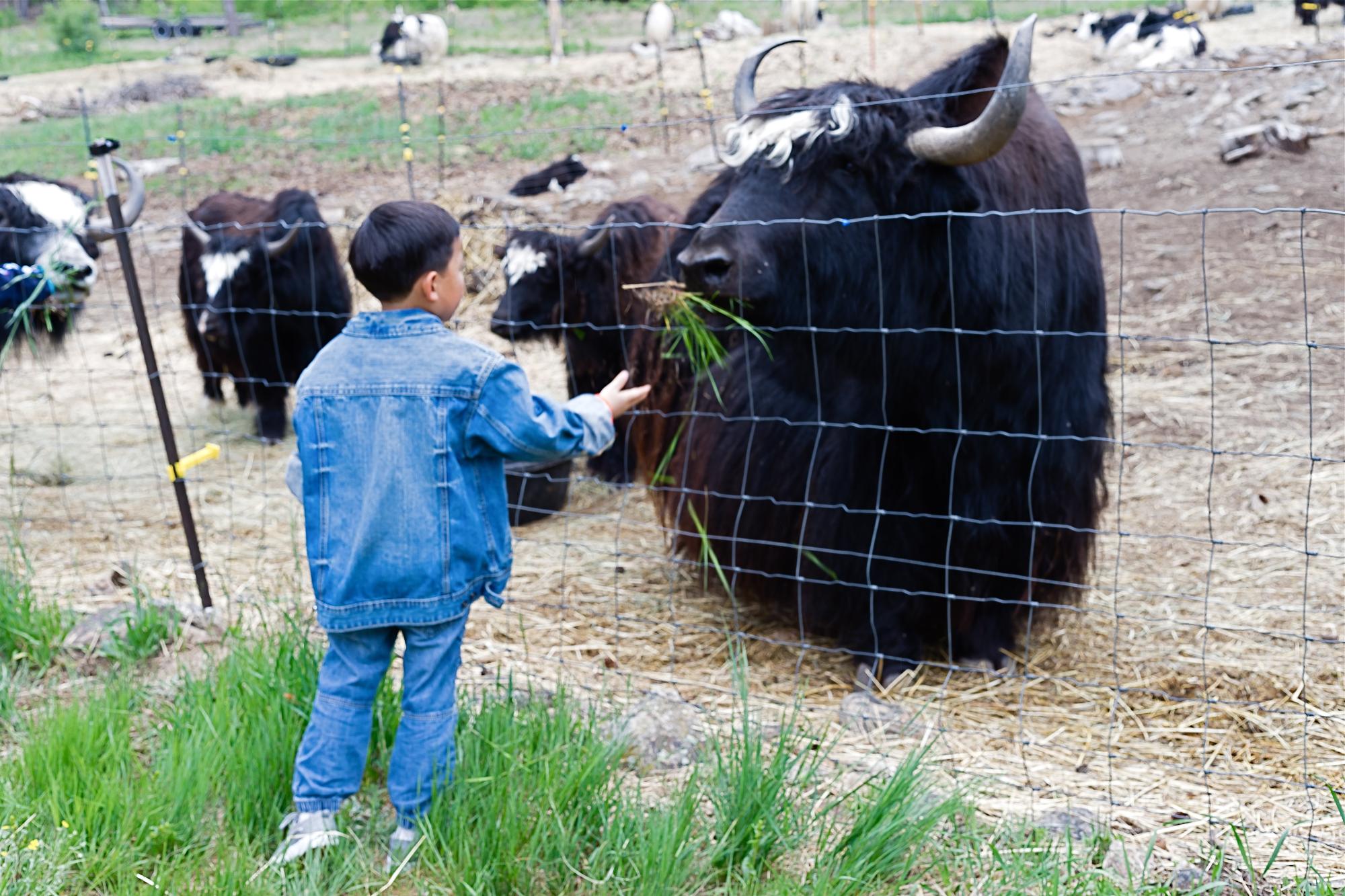 Imprinted at birth and handled daily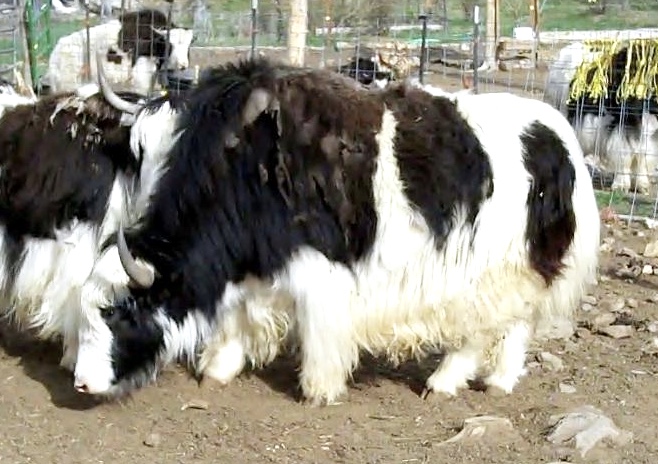 MTR Malachi T034 - Born July 21, 2010 His Hebrew name means "my messenger". He is an Imperial Trim. His sire is Thy Farlee P069 and his dam is LDR Kamali Q055. Malachi was the 2012 Reserve Grand Champion at the National Western Stock Show. He also took first place in halter in 2012. He won 2nd in fiber out of 62 yaks in 2012 at the National Western Stock Show. He took 2nd place in halter at the National Western Stock Show in 2011 when he was 7 months old. He is an experienced breed bull. He is a sweet bull and likes to be petted and rubbed. He was imprinted at birth. He has also been to numerous local Fairs.

He was trained for pack, loves to be combed and can still be moved easily with a halter. He seeks petting and rubbing so he needs a home he can receive the attention he deserves. He is a gentle giant that produces show quality offspring. Sold!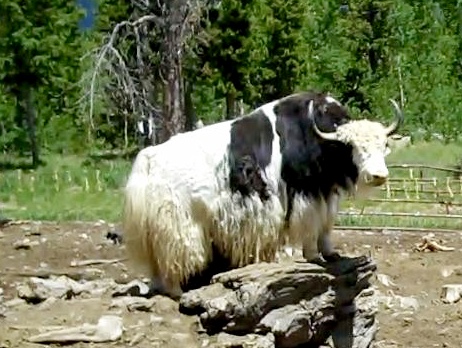 Breed Bulls born or raised on our ranch and sold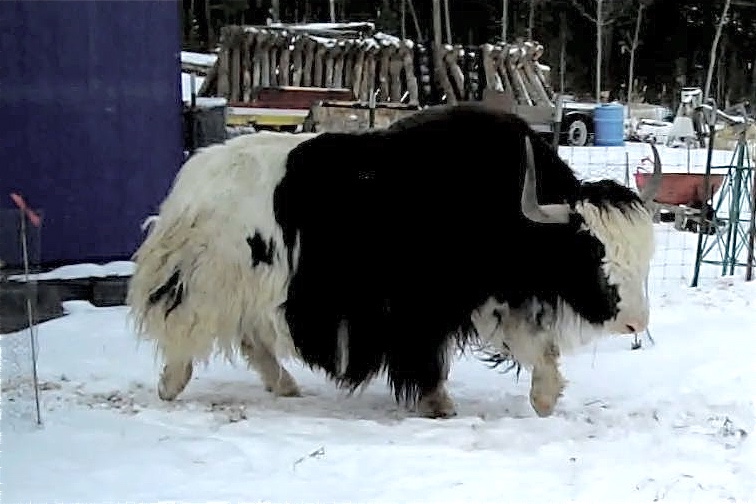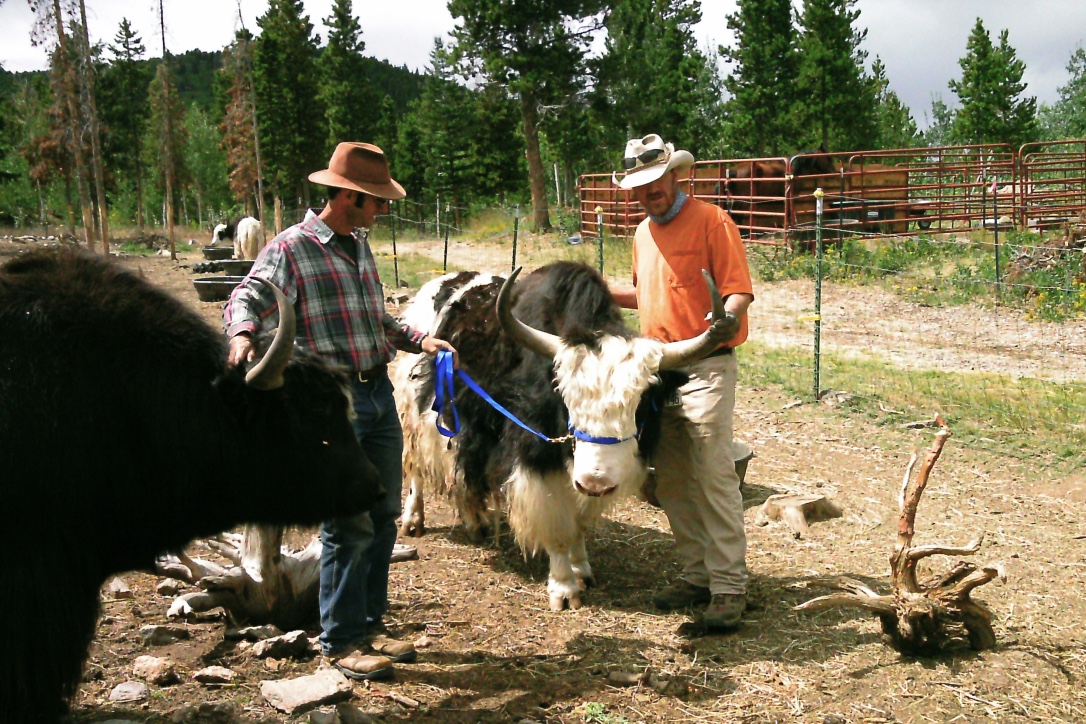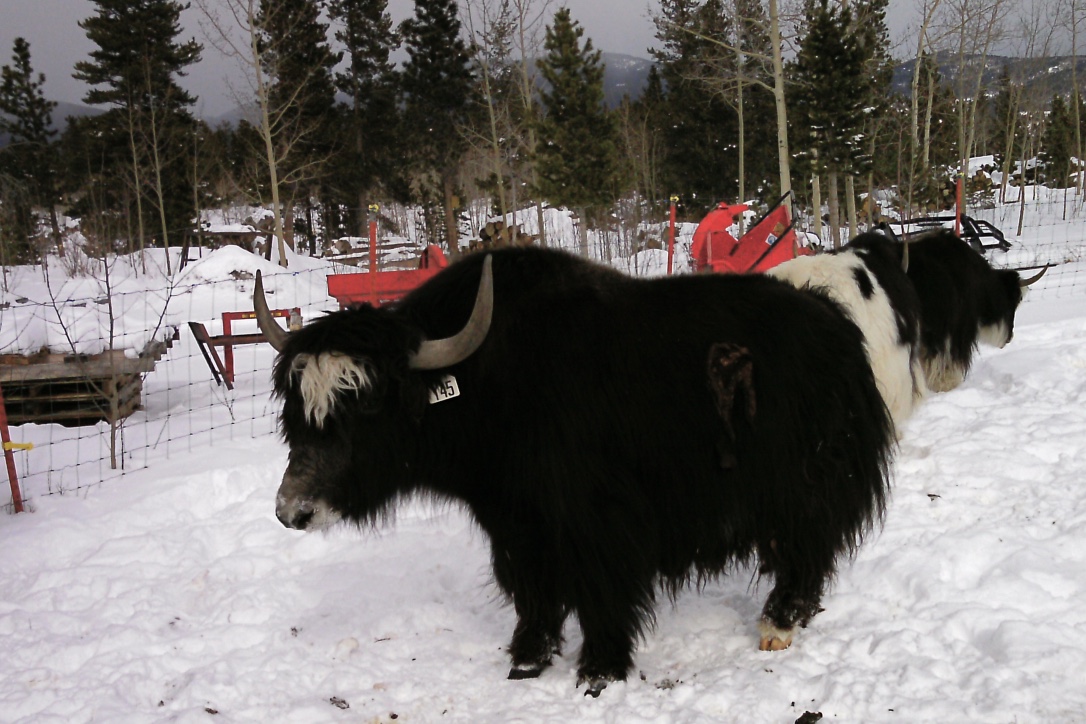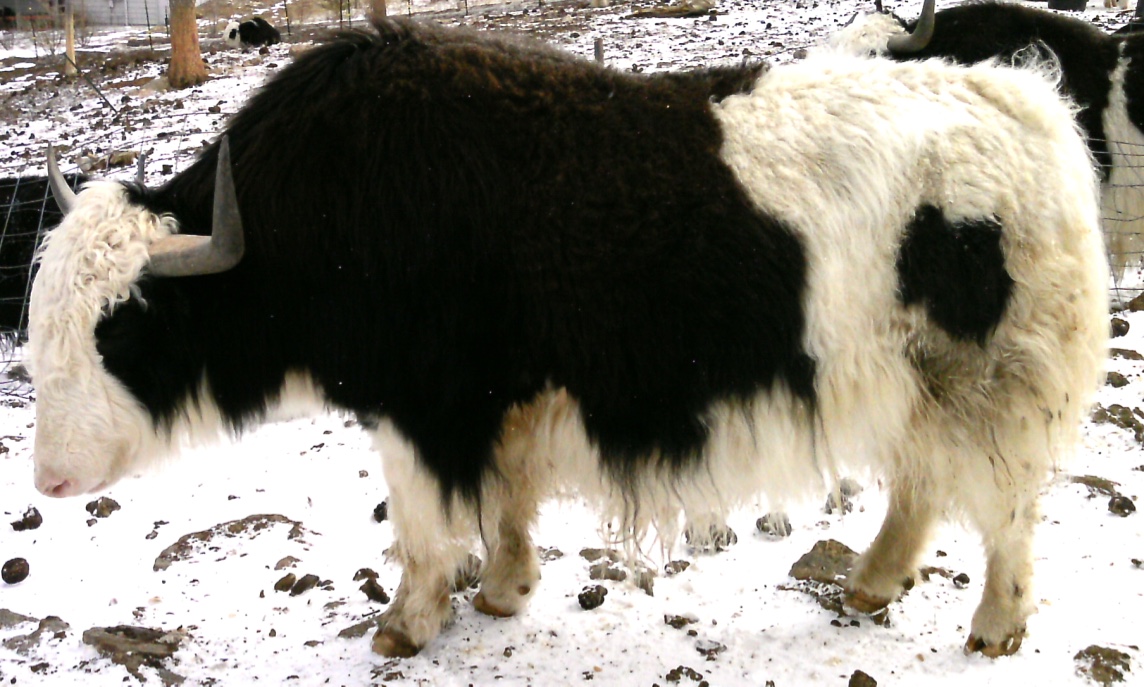 MTR Shankhdhar 2E117 Sold!
MTR Othneil Born June 8, 2021 His name means "lion of God". His dam is MTR Aashi B104 and his Sire is HCC Shi Yaachi 2C031. He will make an outstanding breed bull. He has a wonderful temperment and will be a big bull.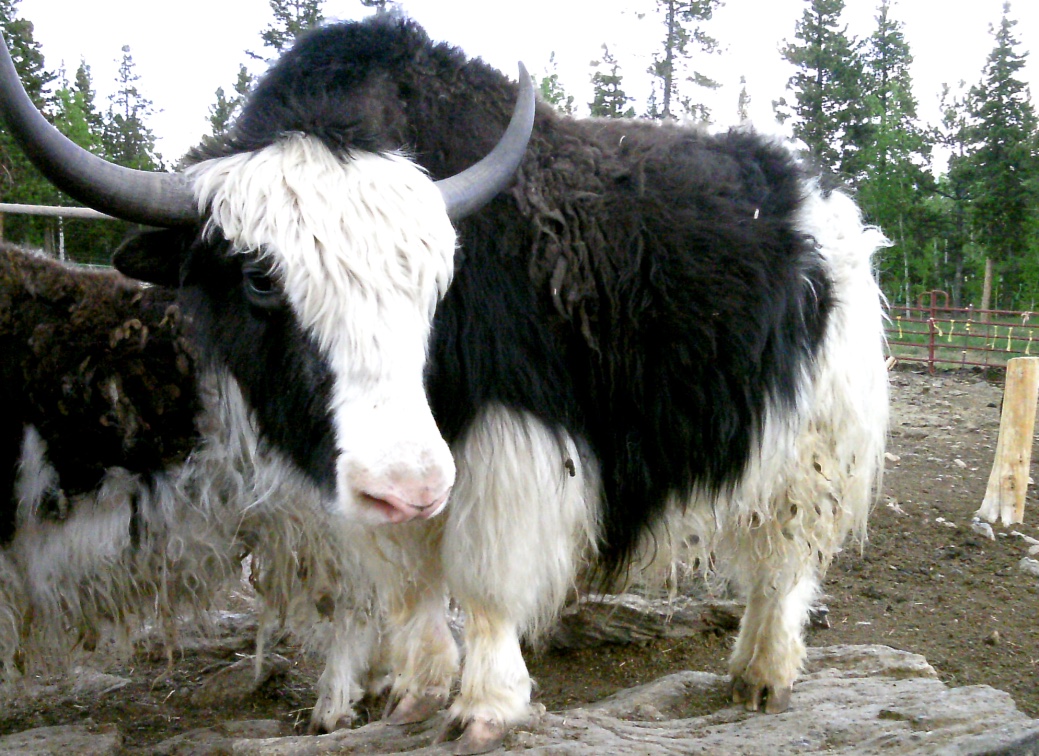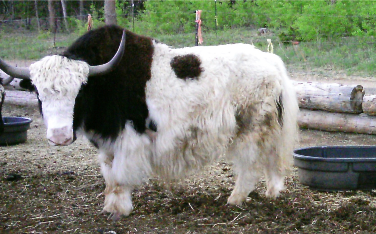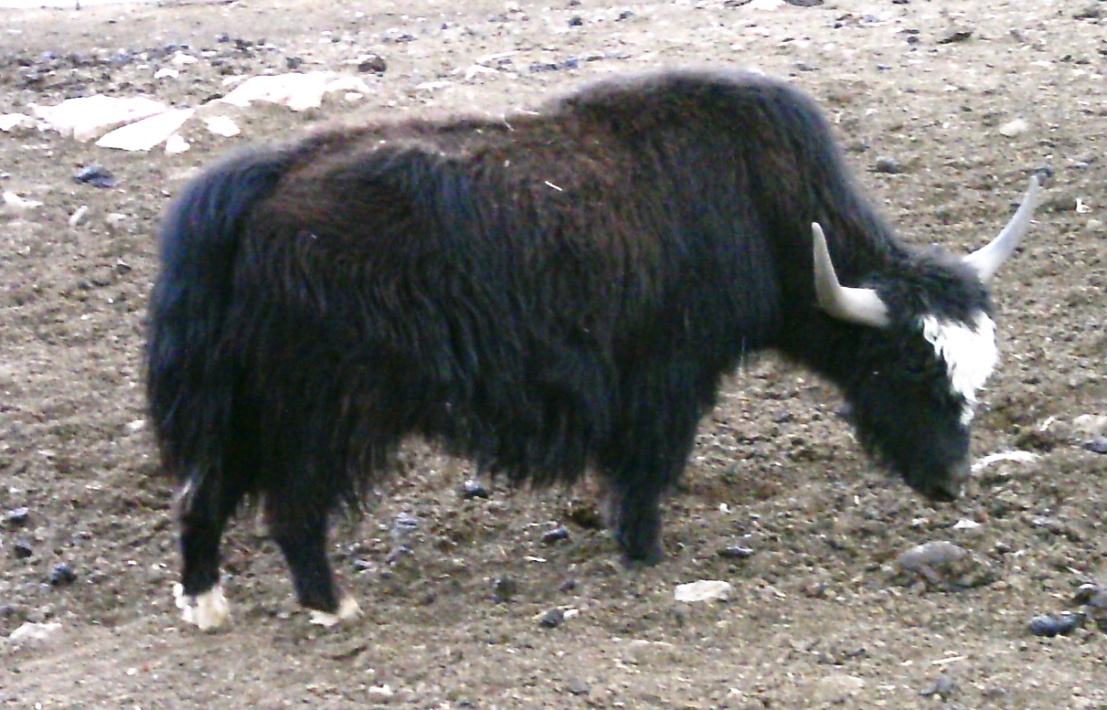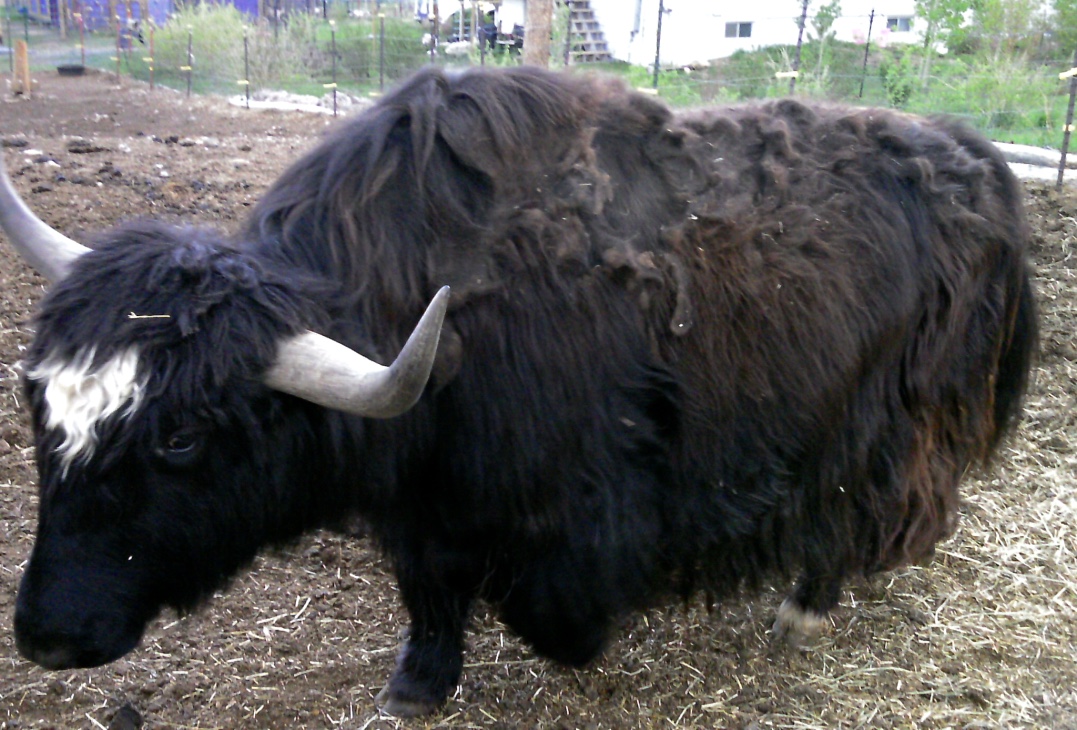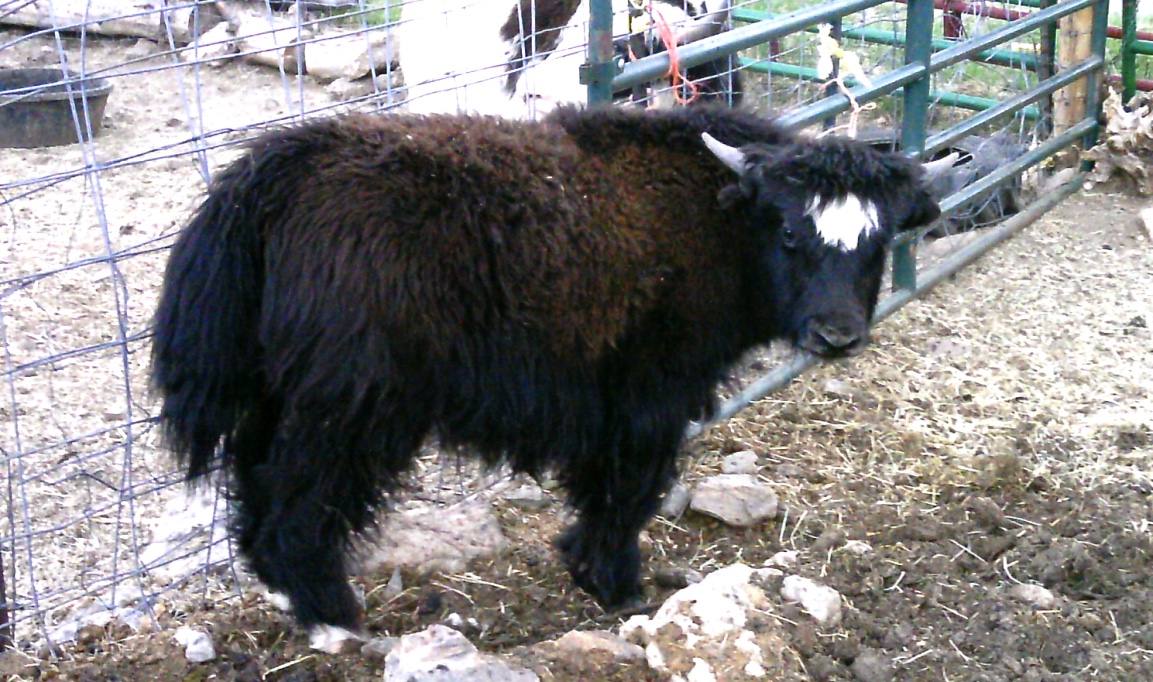 HCC Shi Yaachi 2C031 Sold!
MTR Tekon Born July 7, 2021 His name means "child or son". His dam is MTR Preeta 2E115 and his Sire is HCC Shi Yaachi 2C031. He will make an outstanding breed bull.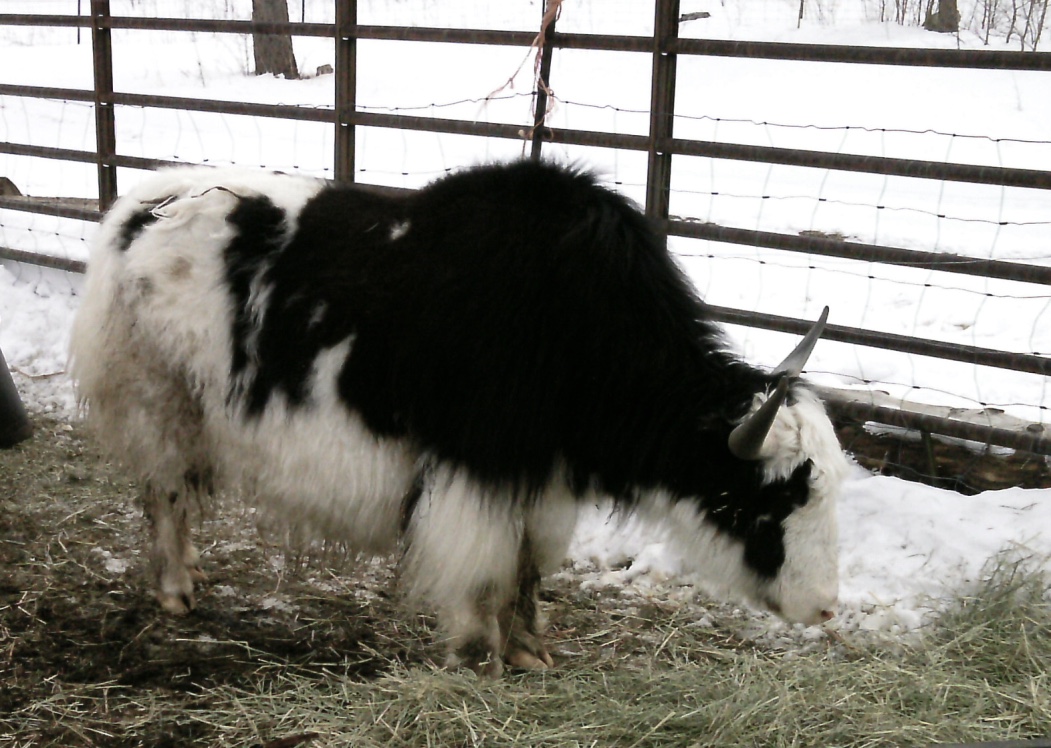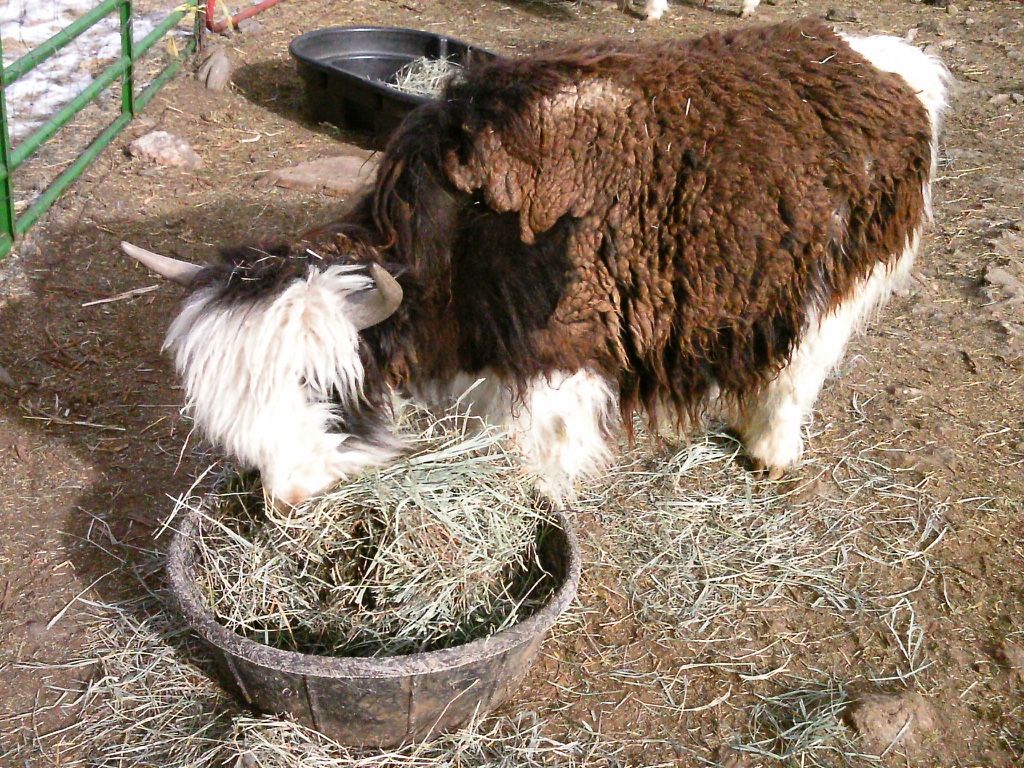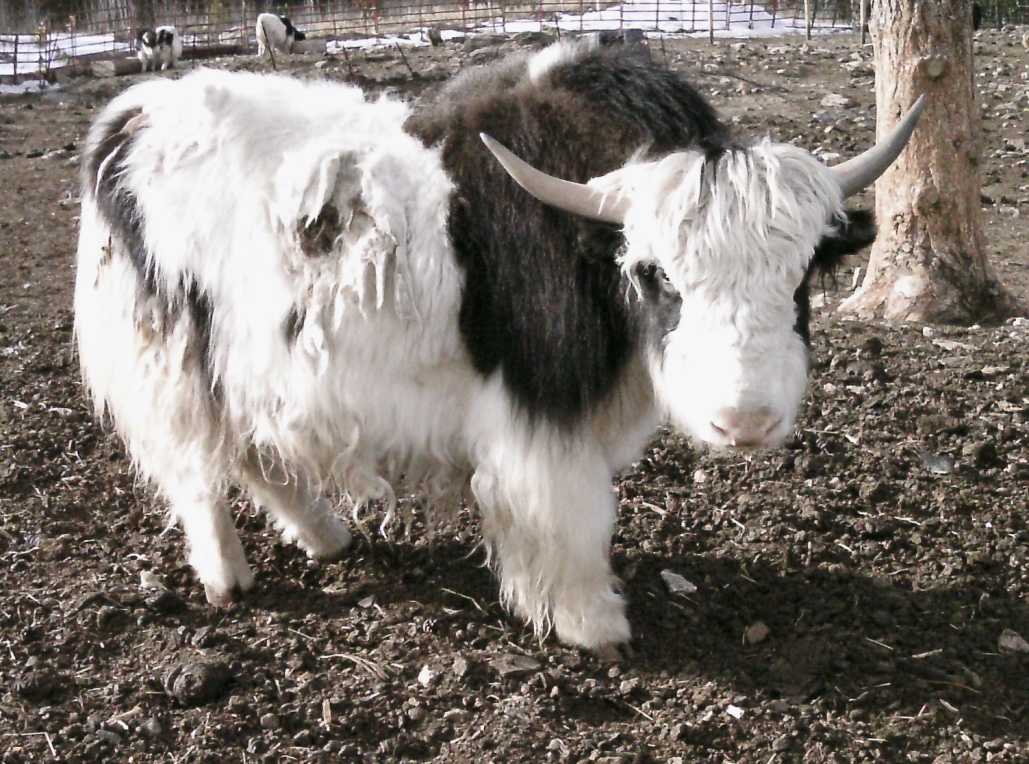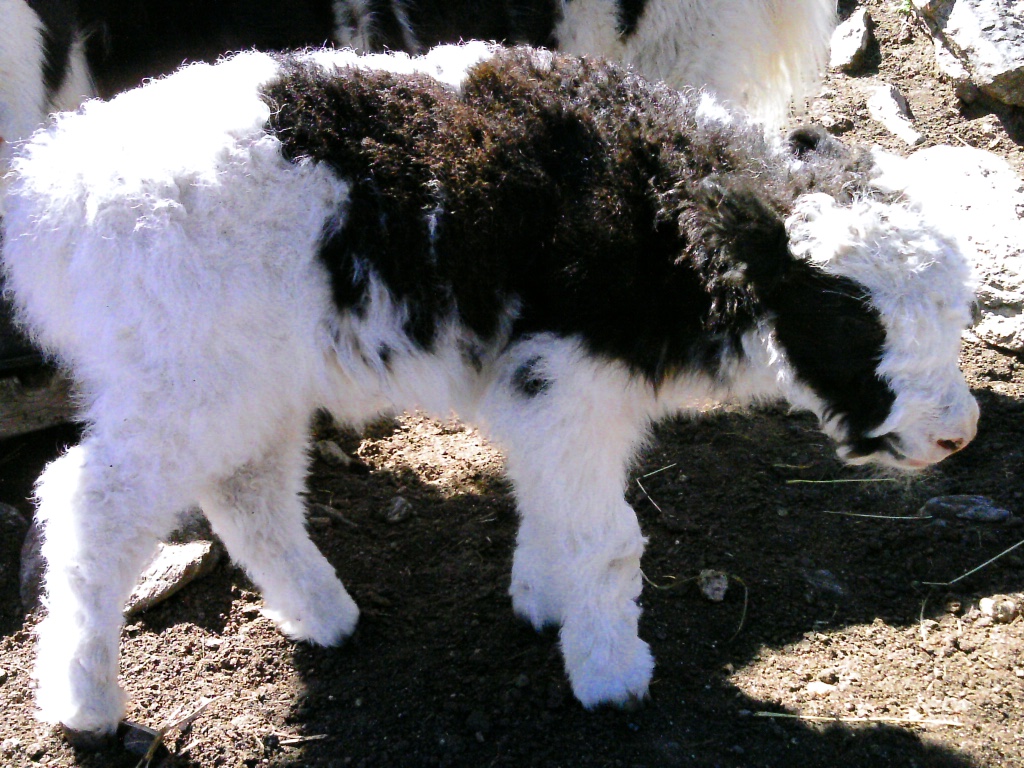 MTR Caleel Born Sept 10, 2022. His dam is LDR Sharai R041 and his Sire is MTR Karban 2E116. He will make an outstanding breed bull. He is available for purchase now and can be picked up after he is weaned.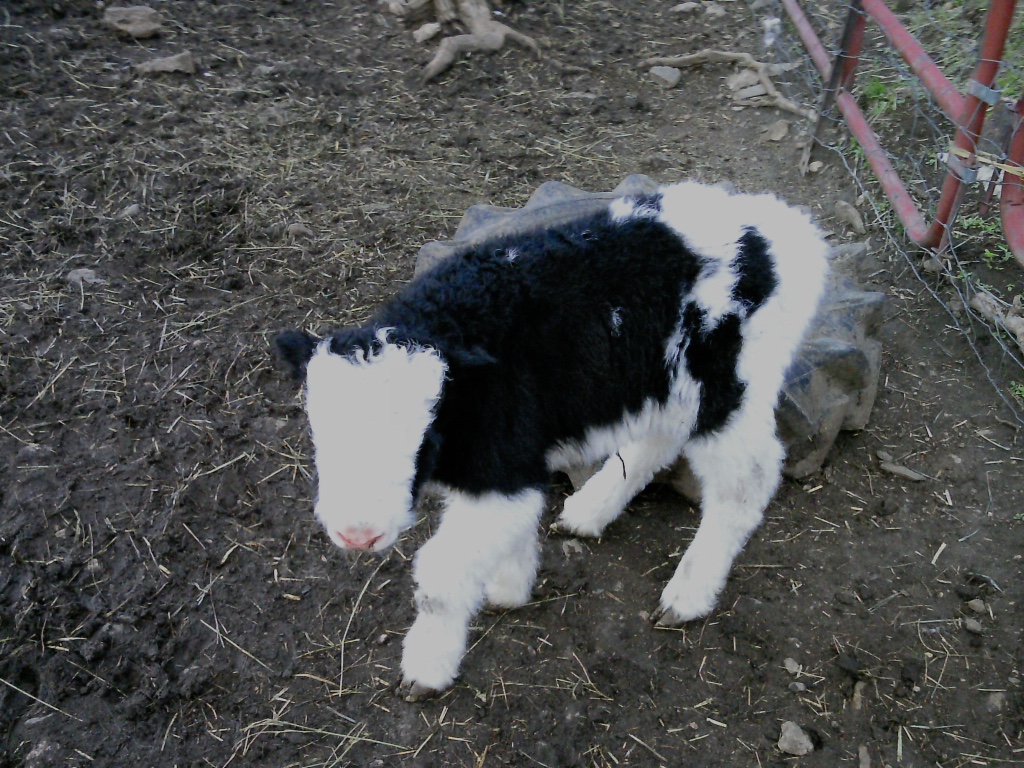 MTR Neerad - born 5/15/23
MTR Sanskar - born 5/23/23
MTR Neerad Born May 15, 2023. His dam is MTR Jaspar and his Sire is MTR Karban 2E116. He will make an outstanding breed bull. He is available for purchase now and can be picked up after he is weaned.

MTR Sanskar Born May23, 2023. His dam is MTR Matangi 2D211 and his Sire is MTR Karban 2E116. He will make an outstanding breed bull. He is available for purchase now and can be picked up after he is weaned.